Ok so I went even though I couldnt go in but I MET BJ! RAINN! (AGAIN) JENNA AND!!!!!!!!! JOHN!!!!!

Ill post pictures when I get home. Im writting this from my phone.


*Edit* Pictures and what happen!



Ok so my mom took me lol and we were going to park in this empt space right when a black car got there before so my mom was like what the hell! I was like umm just go over there. And when I see the person who took the parking spot it was none other then RAINN WILSON! In my head I was like omg omg omg! So I say to my mom hahahah look who stold you parking space! And she like huh? OH DWIGHT!!! So I was still getting out of the car my mom was like omg lets follow him and I was like na hes walking to fast. (Plus I had met him alread) We didnt see where he went. Then all of a sudden he was gone. Then I saw some girl in a car and I was like OMG ITS JENNA! But I didnt see where she went too. I ended up siting near Baha Fresh for about 20 minutes when my mom says LOOK ITS BJ! So I jumped up and said OH! BJ can you sign this for me? And he said Oh course! Thats when my mom was like I loved the new episode. He was like thank you. Then she started to say Brian! Brian! Brian! In my head I was like noooo its RYAN! and he just looked at her like wtf?! Heheh so he looked at me and I just laughed and he smiled. Then I told him thanks and he said no problem. And asked if Riann was inside already and I said yeah I saw him pass by. So 30 minutes went by when I saw this guy who was waiting for them to got near me. I looked up and saw Rainn! Turns out he went to go eat at Baha Fresh. I had brought a picture of him I had from a while ago and told him to sign it for me. But the guy made him sign like 20 pictures! So finally he was like hi :) and signed the picture then said do you want me to make it out to anyone? And I was like yeah sure me! And he was like haha ok whats your name? I said Stacy and he was like ok is that whith a E? Witch I said no. Then I told him if I could take a picture with him and he was like yeah! While my mom took it he was like its me and you stacy! Then he walked inside and I started to talk to the guy who asked me if I had seen John ot Jenna yet. I told him I saw Jenna in her car but hadnt seen John yet. I got bored and started to walk around when I saw this really tall guy but couldnt make out his face cause I didnt have my glasses. So I got closer and BAM! It was John! Bad thing was that I didnt make it in time before he went inside. So I guess an hour passed by when I saw people coming out so I went to stand next to the door. So we waited another 10 minutes and Bj was the first one to come out. He just passed by and smiled. I got a call from my brother right when Rainn came out and again and he just looked at me and said hi to my mom heheh. So a few minutes later John came out! I ran and said JOHN! Can you sign this for me?!? And he was like yeah! With a big smile on his face. He asked me how I was and stuff which was awsome! Then he was like do you want me to sign this too? And turned the picture around and saw that it was of Rainn and I said umm no. And he said ok! fine! I see how it is! And laughed. Then some girls started to talk to him and someone screamed OH MY GOD I LOVE YOU JOHN!! and he said hahah thanks! And looked around and asked who said that and it was Rainn who screamed it from his car when he was passing by. He was just laughing and sticking his head out of his car hahah. John said haha I knew it! Then he went back in. I was about to leave cause I had to go already and thank god Jenna came out and once again I ran and asked her to sign my dvd. OMG shes so pretty! And was supper nice! And that was pretty much it! :)

PICS!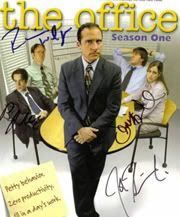 Man bag! lol




<3




LOVE THIS ONE!




Hehehe my mom and John!




Love the face she made!